Dental Implants in Rye, New York: The Best Dental Implant Surgery Services in New York!

Do you have missing teeth and are your dentures not doing the trick? Ask About Dental Implants in Rye, New York. Call us today at Purchase Street Family Dental (914)921-5437! Ask us about our Same Day Dental Implants if you want a smile that you can't wait to have!
Conventional bridges, crowns, or dentures may not be the best option for missing teeth. Dental implants will not only improve the visual presentation of your mouth, but it will also improve hygiene ad how your mouth functions!
With Dental Implants you can:


Painfully replace missing and broken teeth
Avoid the discomfort of dentures
Show off your new, permanent smile!
How Can I Replace a Missing Tooth?
There are a few options available to patients with missing teeth but each option varies between each patient. When considering tooth replacement our dentists will discuss with you the best solution for your teeth.



Here at Purchase Street Family Dental, we will provide you with natural looking artificial teeth that will function as your normal teeth do and are durable and comfortable. Unfortunately not everyone is a candidate for dental implants; a patient must undergo an evaluation by one of our dentists to ensure that you have enough bone volume in your gums to accept the tooth implant and you must be committed to regular visits with us to make sure the pre surgery procedures and post surgery healing is progressing as planned.
Dental Implants are a flexible solution that provides a natural feeling.
To ensure stability dental implants are surgically installed into the jawbone just as natural teeth's roots are nestled within your jawbone. You can either have a single implant or you can have an anchor that will serve as a screw for more than one tooth, a bridge, or dentures. Implants serve as a comfortable substitute for missing teeth and most patients prefer implants over dentures.
About the Dental Implant Procedure

After a consultation with our professional dentists we will decide between two options: to have the procedure performed in our office or at a hospital. Before the procedure you will be induced with a local or general anesthetic to ease consciousness. We will begin the procedure by installing the anchor for the implant into your jaw bone. Once the anchor is inserted you will need several weeks to heal.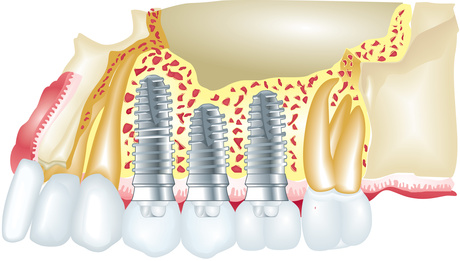 After you successfully healed you will be fitted for your artificial teeth and they will be attached to the anchor in your jaw. The surgery can take up to a few hours, the healing period may require up to six months for your bone to accept the anchor, and the final steps of the dental implant fittings can take up to two months. While the process may take quite some time, this is a durable and effective solution to missing teeth and it is a permanent option that will provide you with a fabulous smile!
Call our office at (914)921-5437 to have all of your questions about dental implants answered by one of our professional team members, schedule an appointment with us today!