Get Same Day Dental Implants with Teeth-in-an-Hour™: Cutting Edge Technology from Nobel Biocare

Missing teeth are a common problem that can easily be fixed. Our most common options are dentures and implants but both can be a hassle. Here at Purchase Street Family Dental in Rye, New York we are introducing our new same day dental implant procedure that will send you home with a new smile the very same day. Avoid multiple visits for denture fitting and avoid the surgery for implants, try Teeth-in-an-Hour!
Avoid pain and hassle that dentures and surgically placed implants will cause; get Teeth-in-an-Hour™ Same Day Implants!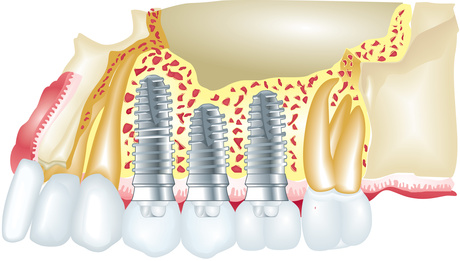 With Teeth-in-an-Hour™ you don't have to endure multiple evaluations, adjustments, and additional procedures. On the day of your visit a team member will administer a 3-D scan and with the use of a virtual reality software we will replicate an exact representation of your jaw. Using state-of-the-art technology we will develop a template to use as a guide during the procedure.The acrylic bridges with titanium framework can be fitted with acrylic or porcelain teeth to your bottom, jaw, top jaw, or both. And it take just one hour!

What makes Teeth-in-an-Hour a great solution?

Avoid a lengthy healing process and grueling side effects
Enjoy the benefits of a 100% percent accurate procedure with the help of modern technology from Nobel Biocare
You no longer have to worry about ill fitting dentures and painful surgeries that come with implants. Teeth-in-an-Hour™ are durable and function as natural teeth do.
On the day your Teeth-in-an-Hour™ Same Day Implants are inserted you can go home or continue your day as you normally would and you can even eat the very same day!
Potential candidates for Teeth-in-an-Hour™ same day dental implants will need all extractions, CT scans, and bone grafting done before the actual fitting. Same day implants are great for single tooth replacement, multiple tooth replacement, or complete mouth reconstruction.
Call our office at (914)921-5437 to have all of your questions about Teeth-in-an-hour answered by one of our professional team members, schedule an appointment with us today!